Dry Case waterproofs your cell phone
Dry Case waterproofs your cell phone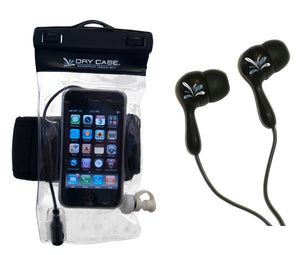 I got the opportunity to try a new waterproof case from Dry Case. Dry Case uses vacuum sealed technology to keep your device dry. You simply place your device inside a clear lockable bag and then suck the air out with a small squeeze pump.


You can still use your smartphone's touchscreen through the thin clear vacuum bag. It even has a waterproof jack, so you can listen to your tunes as well.
My wife conducted the test while paddleboarding on Donner Lake. It was easy to put the iPhone in the bag, hook up the headphone jack, and pump the air out of the bag. The vacuum sealed bag includes an armband for securing to your arm. My wife was able to listen to music and make and receive phone calls while paddleboarding.
The company literature says Dry Case can be used with cameras and MP3 players as well. Dry Case doesn't just keep your device dry, it allows it to function underwater so you can take pictures.
If you know you are going to get in the water with headphones, you should buy their waterproof DryBUDS. However, if you don't fall off your paddleboard very often, regular earbuds are cheap to replace.
Dry Case works as designed. It keeps your device waterproof and allows it to function underwater. I like it.
Provided by:http://www.tahoetruckeeoutdoor.com/2012/10/dry-case-waterproofs-your-cell-phone.html
Mile High Themes Collaborator