The Liberty Ship waterproof diving and boating duffel bag
The Liberty Ship waterproof diving and boating duffel bag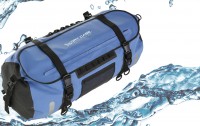 The Liberty Ship waterproof diving and boating duffel bag is the newest product release from DryCASE! The Liberty Ship is 100% waterproof, and the bags two-way purge valve makes the Liberty Ship superior to any waterproof diving/boating bags on the market. The purge valve allows the user to inflate- making the bag buoyant- or compress the duffel bag, allowing the bag to fit into tight compartments. The purge valve allows the bag to double as a cooler and shower, a very valuable asset after a long sandy/salty day.


The duffel bag features a fully waterproof main compartment capable of holding 80 Liters, a supplementary Velcro closure with an integrated waterproof pocket to store smaller items, and a front mesh pocket. The bag's 12 carabiner loops and D-rings make securing the bag no problem, especially under strong winds. Waterproof backpack style shoulder straps allow the user comfortable and easy transportation.


Specs:
Material: High Quality Marine Grade Vinyl
Volume: 80 Liters / 4,881.9 cubic inches
Weight: 4.1 lbs
Dimensions: 32 x 14 x 11


Visit the DryCASE product page to get your Liberty Ship today!
Mile High Themes Collaborator