Best Waterproof Backpack?
Best Waterproof Backpack?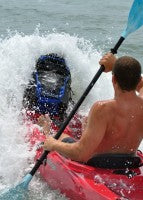 The Best Waterproof Backpack- Masonboro Waterproof Backpack


DryCase's Masonboro waterproof backpack has got you covered as you embark on life's journeys. Whether it's paddling gear to a secluded surf break, charging waterfalls with your gear, or just hanging out by the water, the Masonboro is your go to. With all the amazing features, you'll be sure to catch the eyes of onlookers as you indulge in Mother Nature's gift. Being by the water does not have to mean leaving your belongings behind. Just check out the features below!


Here is the Masonboro waterproof backpack in the luscious island of Puerto Rico! Besides being stylish and easy to use, the Masonboro will definitely take the worry out of ruining your belongings around the water.
Features:
100% Waterproof Main Compartment, 35 Liters of Storage, High Quality Marine Grade Waterproof Vinyl, 2 Way Purge Valve (inflation/compression), Water resistant zipper outer storage pocket, Drink Holder, Bungee straps, Padded lower back support, Padded waist & hip support, Waterproof padded shoulder straps, Tie downs / Front straps, Chest straps, Internal zippered pocket, Removable internal Velcro wallet compartment, Durable rubber top hold handle, Webbing to secure carabiners to the side of the bag


Mile High Themes Collaborator