DryCASE: Waterproof Case for iPhone 6
DryCASE: Waterproof Case for iPhone 6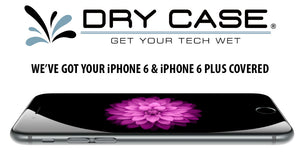 Swim, Surf or Scuba with the
DryCASE
waterproof case for iPhone 6. That's right, we already have a waterproof case for the new iPhone 6!
In case you're not familiar,
DryCASE
is a flexible, crystal clear waterproof bag that allows complete use of your iPhone 6 while keeping it dry and clean. Simply pump out all the air with the easy to use hand pump and the bag will vacuum seal around the iPhone 6 and become completely waterproof. The airtight seal guarantees that the iPhone 6 will stay dry even when submerged underwater. Every DryCASE comes with our neoprene activity arm band for water sports and is crystal clear so pictures can be taken through it while using the other side.
Review:
"What sets DryCASE apart from all the other waterproof cases out there? It's definitely the vacuum seal technology. With DryCASE, after you seal your smartphone in the pouch, you attach a small hand pump to a valve on the pouch, and with 2 or three squeezes, all the air has been sucked out of the DryCASE, and you KNOW it's watertight. Smartphone users will appreciate that DryCASE makes it possible for users to use their touch screen through the pouch as well as make phone calls. Whether you're looking to take your music or an emergency phone on the water, DryCASE is an easy solution that will fit a variety of electronic devices. The vacuum technology lets you know that it's watertight every time. Are there any downsides to DryCASE?" – SUP Surf Magazine


Mile High Themes Collaborator