DryCASE Waterproof Headphones Now Available
DryCASE Waterproof Headphones Now Available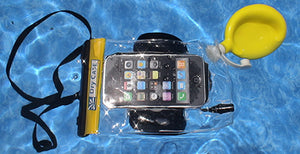 DryCASE, the waterproof case for phones, cameras, and music players, is equipped with a three-way headphone and microphone jack, an industry first, that permits the use of headphones and headsets that include a microphone. DryCASE Waterproof Headphones allow users of DryCASE to make and receive calls and listen to music while the personal electronic device is secured in the waterproof case.
DryCASEs clear membrane and vacuum seal permits the use of all the available capabilities of a cell phone, camera or a music player while at the beach, pool or lake. DryCASE is made with a medical grade one-way check valve that allows air to be removed. This process creates a waterproof vacuum seal and the case conforms to any item placed inside the waterproof case, including iPhone, iPod, a digital camera, or any personal item users wish to keep dry. Once all the air is removed, the pump can be detached and the cap can be placed on the valve, helping to keep out any sand or dirt. The pump can also remain attached and be used as a floatation device to keep DryCASE from becoming lost in the water.
DryCASE can be fully submerged in water and is made from a durable material that can withstand most water or beach activities. The DryCASE, used with DryCASE Waterproof Headphones, enables users to use all available features of their iPhone or iPod while swimming, surfing, or participating in other outdoor activities. DryCASE Waterproof Headphones are completely submersible and can be used up to three meters or nearly ten feet underwater. The personal electronic device stays dry and secure in DryCASE, while the user stays connected by receiving calls, replying to e-mails, or listening to music.
DryCASE Waterproof Headphones can be purchased for $19.95. DryCASE and DryCASE Waterproof Headphones can be purchased through the company website, http://drycase.com, or by telephone at 866-6000-DRY. Same day shipping is available on orders placed before 3:15 PM EST.
Mile High Themes Collaborator